CBD+ Extra Strenght Wellness Biscuits by Austin and Kat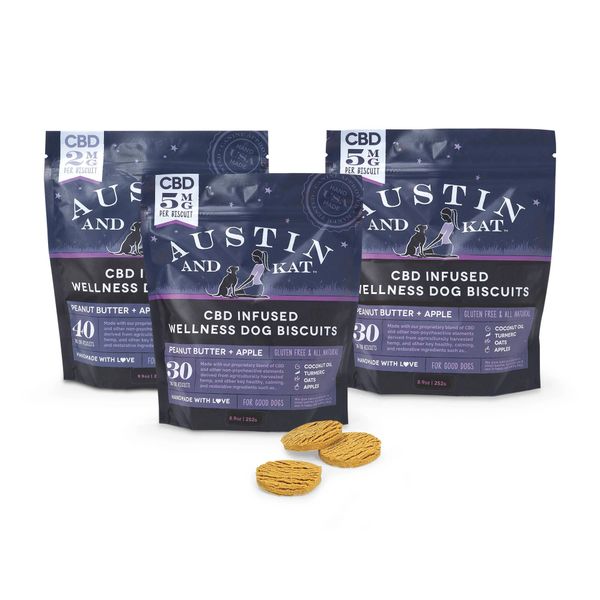 CBD+ Extra Strenght Wellness Biscuits by Austin and Kat
CBD helps support metabolic function, bone health, proper joint function, heart health and skin/coat condition, as well as improves recovery after a long hike. Our CBD biscuits will help your four-legged friend live a healither, calmer and happier life.

Hemp-derived full-spectrum CBD can help support metabolic function, bone health, proper joint function, and healthier heart, skin, and coat.
For our Original formula, we combined those benefits with:
Coconut Oil
Turneric
Oats 
Apples 
Each biscuits is also:
Gluten-free
THC-free
Soy-free
Vegan
*These statements have not been evaluated by the FDA. This product is not intended to diagnose, treat, cure, or prevent any disease. This product contains zero THC.
Servings
MEASURE: 1-2mg CBD per 10 pounds of pet weight. Your pet may require more support if dealing with stressful situations, aches and pains, they're older, or needing a bit more pep in their step.
GIVE: Alone or with a small amount of food. CBD works best when taken on an empty stomach.
WATCH: Watch your pet closely to see how they respond.  Our Original formula begins to provide results within 30 to 45 minutes and can last 4-8 hours. 
ADJUST: Serving size until you see your pup feeling more engaged and happier.
10mg bags contain 30 biscuits for a total of 300mg of CBD
5mg bags contain 30 biscuits for a total of 150mg of CBD
2mg bags contain 40 biscuits for a total of 80mg
Key Ingredients
Apples are a good source of fiber, Vitamin A and Vitamin C.
Peanut butter is a favorite with pups! Plus it's a good source of protein, heart healthy fats, vitamin B, niacin, and vitamin E. 
 
Cinnamon boosts energy, circulation, cognitive function and has anti-inflammatory properties.

Turmeric, the "golden spice", has been used for centuries to reduce inflammation. It also aids digestion and helps support liver function.
Coconut oil gently elevates the metabolism and speeds healing.
Oats are a great source of soluble fibre and great for dogs with allergies.
All Ingredients
Oat flour, Tapioca Flour, White Rice Flour, CBD from organic hemp, Gluten Free Oats, Peanut Butter, Apples, Coconut Oil, Almond Meal, Xanthan Gum, Turmeric, Cinnamon