Cosmo's Signature Chicken Jerky - 4oz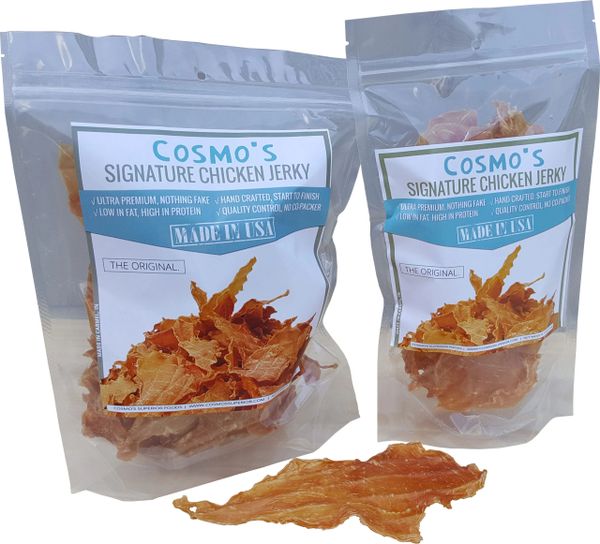 Cosmo's Signature Chicken Jerky - 4oz
High-Protein, Minimal Fat
Hand-Cut, Small Batches
Nothing artificial, premium, choice chicken breast
Better meat than you eat
Company information:
 The fresh poultry we buy is never stored below 28° F, so it's always delivered fresh. In addition, all of our poultry is grown and processed locally, ensuring that we receive the freshest product available. This freshness is then passed on to you and your dog through our fantastic Jerky. Our product originates from all natural chicken that matures on family farms without the use of growth hormones or steroid supplements has been minimally processed. Growth hormones are never used as it is prohibited by federal regulations. 
If you are interested in learning more about the farms we get our chicken from, please inquire. We believe in being totally transparent, unlike the large corporations that are filling the dog treat market with imported, often unsafe, jerky substitutes. 
Process:
 Our Jerky is trimmed of fat and unsightly veins, inspected and then sliced into our desired thickness. We've spent over a year perfecting our process allowing us to efficiently and safely produce our mouth-watering Chicken Jerky. No flavoring, no preservatives. All natural. 
Once the jerky is sliced, we dehydrate each batch for 12 to 14 hours, until we get our desired consistency. After the product is fully cooled and inspected a second time, we package it ! This was first developed exclusively for Canine Cloud Nine in Carmel, IN ! 
Featured Products