Doglas Fur Christmas Tree Plush Toy Puzzle by PLAY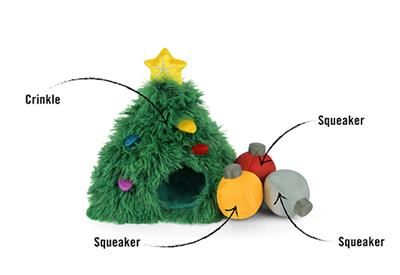 Doglas Fur Christmas Tree Plush Toy Puzzle by PLAY
Being good all year can be ruff, so reward your furry friend this Christmas with the toy set they deserve! Our Merry Woofmas Plush Toy Collection features 5 cheerful toys in the shape of a hang-able stocking, tasty plate of cookies, ornament filled Christmas tree, tug-able elf and a silly Santa. Your furry friend will be howling with joy once they see this set waiting for them under the tree!
Hand-made craftsmanship, double layer exterior and double-stitched edges ensure extra durability
Good Dog Stocking – Your pup is in for a surprise when they find the squeaky bone waiting in their crinkly stocking! Don't forget to hang it above the fire place for Santa to leave some extra goodies.
Christmas Eve Cookies – Satisfy your pup's sweet tooth as they await the arrival of St. Nick with this interactive toy! Each detachable cookie features a squeaker and sits on a crinkly plate, making Christmas extra sweet.
Santa's Little Elf-er – Give your furry friend a sidekick of their own with this mischievous toy! A giggle stick adds extra fun to play time while his rope arms make for a great game of tug-of-war. Crinkle?
Clumsy Claus – This silly Santa toy features a squeaky chimney and a rope feature for pawsome games of tug-of-war. If your furry friend can't wait till Christmas and gets into Santa's sack, there's a spikey ball waiting for them for a surprise toy!
Doglas Fur – Your furry friend will be overcome with joy when they discover that inside this crinkly tree awaits three squeaktastic ornaments! Burrow them inside with your pups favorite treats for an added interactive toy experience.
Eco-friendly PlanetFill® filler is made from 100% post-consumer certified-safe recycled plastic bottles
Machine washable and dryer friendly
Features AZO-free dyes