Fish Tank Hank "Grab Nabber" by Fuzzu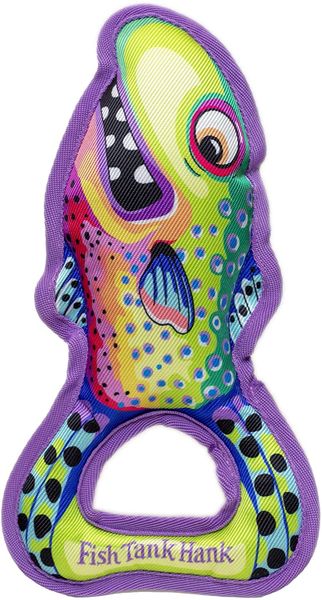 Fish Tank Hank "Grab Nabber" by Fuzzu
Fish Tank Hank from the "Grab Nabber" Collection by Fuzzu
Any way you grab, tug or fling 'em, these durable, rough and tough tug toys will get lots of tail wags and invite rugged play!
Dimensions: 13" H X 7" W
A WAG-TASTIC GIFT: This fun gift will get lots of tail wags and paws-ups from your four-legged friends and enjoyment from your two-legged friends. With bright colors and original illustration, this playful fish is fully loaded with a robust squeaker and tons of crackly-crunch to provide your pup with hours of rollicking fun!
KEEPS YOUR FURRY FRIEND ENTERTAINED: Hank is excited and ready to play dog. He's fully equipped with a handy-dandy handle for easy grabbing and tugging.
IT'S TOUGH: Constructed rough n' tough polyester twill and bound by strapping-strong trim for extra durability. This design ensures long-lasting play value, even with aggressive and vigorous chewers.
NON-TOXIC: Safety is super important when it comes to choosing a toy for your pet. Crafted from premium quality, durable non-toxic materials and stuffed with fiber fill, this Grab Nabbers chew toy is safe for your canine friend.
NON-STOP FUN: Fish Tank Hank's strapping strong trim around the outside and big bold squeaker are highlights of this toy. This dog toy also features a handle for interactive tugging.
Featured Products