Freeze-Dried Pig Ears by VE Raw Bar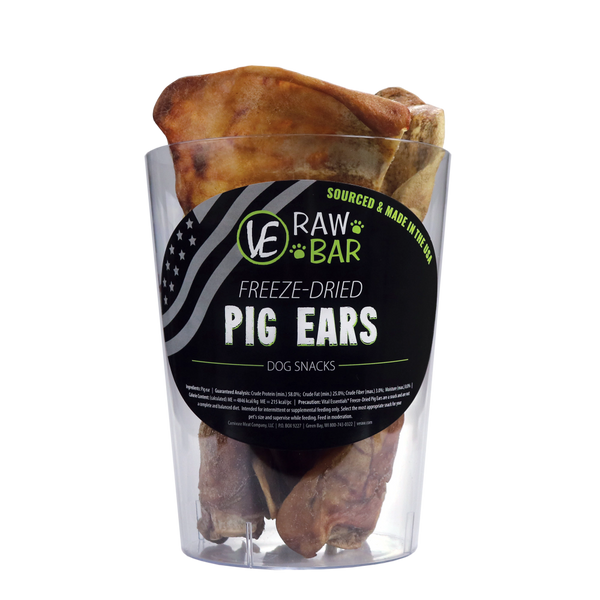 Freeze-Dried Pig Ears by VE Raw Bar
Freeze-drying makes all the difference when it comes to the VE RAW BAR Pig Ears. Unlike other Pig Ears, this snack doesn't need artificial flavor enhancers leaving a greasy film or coating on the Pig Ear which can cause an upset tummy.
We use a 48-hour freeze-drying process to lock in vital nutrients and remove moisture without cooking the product. This means the natural aromas are left intact for your pet's sensory pleasure.  Pig Ears are a great source of hydroxyproline which is an essential in collagen and cartilage and helps support healthy joints.
These beauties are big and delicious without being brittle or needing to have a "greasy" coating to make them appealing. They're a thing of beauty all on their own. We can hear your dog calling for them now. Better get to the bar….VE RAW BAR, that is.
Package Size: 1 each | Protein: Pork
Product Benefits:
Freeze-dried snacks support oral health and clean teeth.
Nutritious between meal snack.
Single-sourced protein.
100% USA sourced, made and packaged.
Gluten Free & Grain Free
Ingredients: Pig ear
Calorie Content: 4846 kcal/kg 215 kcal/pc
Guaranteed Analysis:
Crude Protein, Min - 58.0%
Crude Fat, Min - 25.0%
Crude Fiber, Max - 3.0%
Moisture, Max - 8.0%
Daily Feeding Guidelines: Freeze-Dried Pig Ears are snack and are not a complete and balanced diet. Intended for intermittent or supplemental feeding only. Select the most appropriate snack for your pet's size and supervise while feeding. Feed in moderation. 
Preparation & Storage: Store freeze-dried products in a cool dark place. Best if fed within 30 days after opening. 
Safe Handling: Wash hands, utensils, counter, food dished and related areas thoroughly with hot soapy water after each feeding. 
Featured Products