Large Stuffed Beef Shin Bone w/ Peanut Butter Flavor by Barkworthies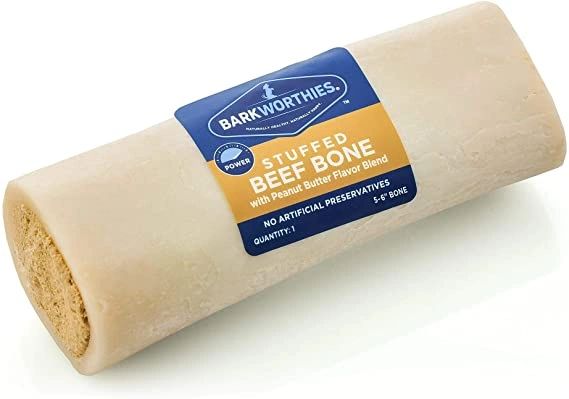 Large Stuffed Beef Shin Bone w/ Peanut Butter Flavor by Barkworthies
Barkworthies Large Stuffed Peanut Butter Shin Bone Dog Treat is a long-lasting chew that combines every dog's favorite flavors. This all-natural treat is made from beef shin bone with a filling that blends the mouthwatering tastes of beef and peanut butter. As your dog enjoys his delicious chew, the hard texture helps brush off plaque and tartar. After the filling is gone, you can restuff the bone with anything from canned food to frozen yogurt. Barkworthies Large Stuffed Peanut Butter Shin Bone has no preservatives, added sugar, grains or gluten and makes the perfect treat for dogs of any size.
Key Benefits
All natural, stuffed, beef shin bone.
Filled with a specially formulated filling of beef and peanut butter.
This great-tasting chew can be enjoyed by your dog even after the filling is gone by re-filling it with your dog's favorite treat, making it a great natural alternative to plastic stuffable toys.
Unique shape and texture helps "brush off" built-up plaque and tartar, promoting dental health and helping prevent bad doggy breath.
Barkworthies are preservative-free, hormone-free, and antibiotic-free.
Precautions
We recommend storing all of our natural treats in the freezer or refrigerator since they do not contain any preservatives. No need to thaw, your dog will love them frozen! Please supervise your pet while giving a treat or chew and dispose of properly if it becomes a choking hazard or develops sharp edges. Please provide plenty of fresh water when giving any chew or treat. Because this is a natural treat, its sizing, color and appearance may vary—this is normal. You may also notice a natural scent and oil while your pal chews; this natural oil may stain your furniture, carpeting or other surfaces. To prevent injury and choking hazard, please watch your pet while they enjoy this treat and be sure to choose the appropriate size chew. If this product splinters or develops sharp edges, throw it away immediately for your pet's safety.
Featured Products