Martingale Collar in "Santorini By The Sea" by Diva Dog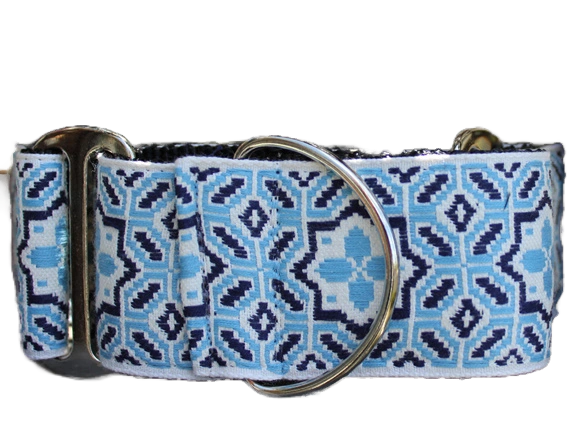 Martingale Collar in "Santorini By The Sea" by Diva Dog
Santorini by the Sea was named for the beautiful Greek island of Santorini, which is set in the emerald waters of the Mediterranean. The island is known for brilliant white villas that are decorated with geometric cobalt tiles. The tile patterns are the inspiration for our design. Santorini by the Sea is the reminder of a sweet summer vacation, no matter the time of year.
All-Metal fittings: Our whisper-weight fittings are both light weight and sturdy.
Sizing:
Below are the standard sizes this collar is available in:
Med: 2 in. x 14-18.5 in.
Lg: 2 in. x 18-22 in.
XL: 2 in. x 21-26 in.
Martingale Style Collars
Martingales are for dogs, and their owners, that prefer a gentle, non-pulling collar when they walk on a leash. This style is especially useful with dogs that have larger necks and smaller head (e.g. pugs). Martingale collars do not come with a side-release buckle, they slide over your dogs head; therefore, the collar must be large enough at its maximum adjustable size to slide over the widest part of your dog's head.
Diva-Dog adjustable dog collars are made of soft and comfortable nylon overlaid with durable polyester ribbon, which is quintuple stitched at stress points for added strength.
Exclusive design by Diva-Dog - Made in the USA