Mike Bloomberg "Presidential Parody" Plush by Fuzzu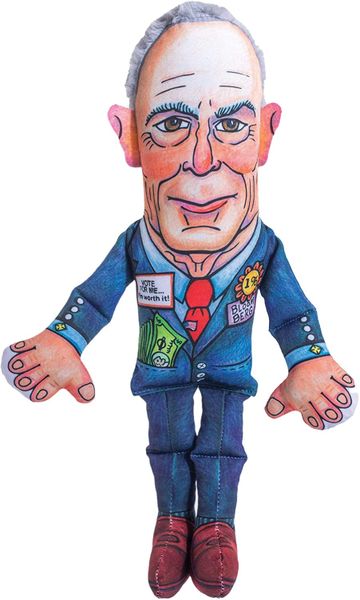 Mike Bloomberg "Presidential Parody" Plush by Fuzzu
Mike Bloomberg Presidential Parody Plush by Fuzzu
Novelty Chew Toy with Squeaker for Large Dog - Fun & Entertaining Gift, Hand Illustrated Design, Durable Quality with Plush Accents (17") 
HILARIOUS GIFT: This funny, paw-some toy will get lots of tail wags and paws-ups from your four-legged friends, and laughter from your two-legged doggy friends. Mike Bloomberg is sure to initiate spirited debates on the floor. Our political squeaky chew toy is an excellent gift for dogs and their people, no matter which way they lean.
A MILLION DOLLAR TOY: What a deal! Your purchase of this dog toy is a wise investment! Our stuffed fetch toy for dogs is made with durable polyester fabric and triple-stitched at the seams around the arms and legs to ensure long lasting use and interaction, even with the most strong and vigorous chewer.
KEEPS YOUR FURRY FRIEND ENTERTAINED: There's no debating that this squeaky Mike Bloomberg toy will give your dog "a good run for his money!". He's "loaded" with a squeaker and top-stitching at the elbows and knees for easy sitting and strategic posing (a photo-opportunity begging to happen).
NON-TOXIC: Safety is super-important when it comes to choosing a toy for your pet. Crafted from premium quality, tough non-toxic polyester with accents of plush, this Mike Bloomberg chew toy is safe for your canine friend.
A RICH PHOTO OPPORTUNITY BEGGING TO HAPPEN: Our Mike Bloomberg dog toy is a real conversation starter! His confident smile, plentiful printed details such as "Vote for me…I'm worth it!" lapel tag, pocket full of money, and "Soda Pop Cop" label on his back are richly humorous highlights of this toy.
Featured Products