Naturally Shed Split Elk Antler by AntlerPure Chews Plus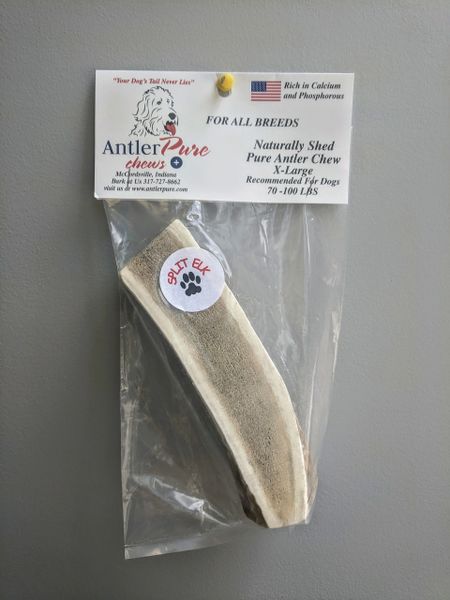 Naturally Shed Split Elk Antler by AntlerPure Chews Plus
These antler dog chews are all natural and unprocessed. They have not been artificially enhanced in any way nor do they contain dyes, added hormones, antibiotics, animal by-products, steroids or preservatives.  Our antlers are without any chemicals or additives found in commercially produced rawhide, rubber and nylon chew toys.  Our chews are more durable, longer lasting to hold up to even the most energetic chewers.  Unlike the rawhide chews, these are not only 100% digestible, they provide your dog nutrients unsurpassed to any manufactured product. 
Dogs find our chews irresistible and they are full of essential minerals such as calcium, zinc, magnesium and glucosamine.  AntlerPure Dog Chews provide an all-natural Pure antler dog chew that is virtually odorless, mess free and longer lasting treat which is sure to make your dog of any size very Happy! 
ANTLERPURE
 ANTLERS ARE ALL-NATURAL, PURE  SHED ANTLERS COLLECTED WITHIN THE UNITED STATES. NO ANIMALS WERE HARMED IN THE MAKING OF THIS PRODUCT. THEY HAVE NOT BEEN ARTIFICIALLY ENHANCED IN ANY WAY NOR DO THEY CONTAIN DYES, ADDED HORMONES, ANTIBIOTICS, ANIMAL BY-PRODUCTS, STEROIDS OR PRESERVATIVES. YOUR ANTLER TREAT WILL BE DELIVERED EXACTLY HOW NATURE CREATED IT, PURE!
Featured Products