Rainbow PRIDE 6" Bone Cookie by Bosco & Roxy's Bakery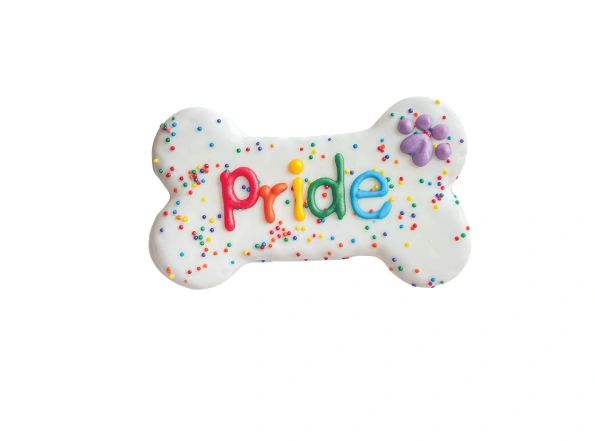 Rainbow PRIDE 6" Bone Cookie by Bosco & Roxy's Bakery
Celebrate and show your pups' pride with this deliciously decorated cookie. 
Ingredients: 
Whole Wheat Flour, Apples, Sugar, Spelt Flour, Vegetable Oil, Hydrogenated Palm Kernel Oil, Vital Wheat Gluten, Oat Hulls, Flaxseed Meal, Honey, Cinnamon, Psyllium Seed Husk, Gum Arabic, Maltodextrin, Rice Polishings, Corn Starch, Confectioner's Glaze, Colour (FD&C Red No.40, FD&C Red No.3, FD&C Blue No.1, FD&C Blue No.2, FD&C Yellow No.5, FD&C Yellow No.6, Synthetic Iron Oxide, Vegetable Juice, Annatto Extract, Riboflavin), Carnauba Wax, Citric Acid, Ascorbic Acid, Calcium Carbonate, Sodium Carbonate, Potassium Hydroxide, Peanuts, Soy Lecithin, Vanilla, Dried Whey, Coconut
Feeding Instructions: Intended as a treat or reward, not food. Supervise your dog while eating to ensure the treat is broken into small pieces of an appropriate size for your dog before consuming. If the treat is consumed quickly and in large pieces, there is risk of choking or gastrointestinal blockage. Color transfer may occur.
Bosco and Roxy's makes every effort to provide accurate images and representation of each product's colour and design. Please note that actual colours and design may vary slightly.
Featured Products