Wheeled Hybrid Adventurer Pet Carrier "Red" by Kaziela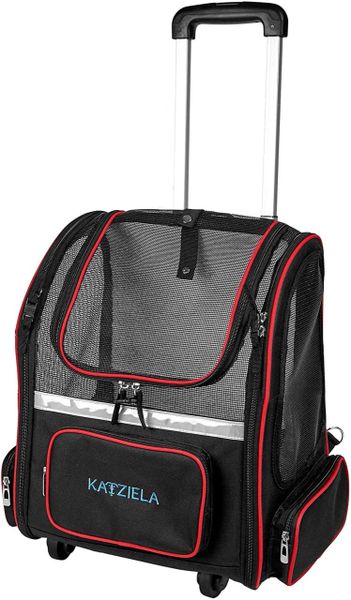 Wheeled Hybrid Adventurer Pet Carrier "Red" by Kaziela
Are you looking for the most versatile, compact and airline-friendly backpack carrier for your furry friend? At Katziela we, like our wonderful customers, understand that pets are family. Treat cats and dogs with the love they deserve and keep them close on airplanes and hikes with the Katziela Hybrid Adventurer! Dually designed for optional use as a rolling travel bag or backpack.
 PRODUCT FEATURES:
 Detachable Wheel Base
Hidden Backpack Straps
3 Zippered Pockets
Inner Safety Leash
Zipper Mesh Top
Double Fleece Bed
Telescopic Handle
 The Hybrid Adventurer offers pets the ability to nestle into 2 comfy fleece bedding arrangements – one when the bag is upright and one when laying on its side.
 TRAVEL IN COMFORT AND STYLE
 Forget the clunky plastic pet carriers of the past… Place your pet's priorities first and elevate their travel experience with a cool modern soft-sided carrier.
 PET SAFETY AND SECURITY 
Your pet's safety and comfort are our #1 priorities. That's why the Hybrid Adventurer includes top and side zipper openings that lets animals poke their head out and enjoy improved freedom of movement. An inner leash can be attached to collars to make sure they don't jump out if excited or spooked.
 Enjoy ultimate freedom of movement and ease of travel for you and your pet with the Katziela Hybrid Adventurer!
Featured Products